With more than $100 billion in gross merchandise volume each year and 260,000 merchants in over 180 countries, Magento has revolutionized the eCommerce world.  Magento released the new generation of its enterprise-level platform, Magento 2, in November 2015, which leverages incredible functionality, scalability, and security to deliver a seamless customer experience across multiple devices and channels.  Improvements to both the back end and front end user experience in Magento 2 make the Magento platform more intuitive and streamlined than ever.
In short, eCommerce merchants who want to drive conversion rates, increase sales, and build up their brand need to know about Magento 2.  Here we summarize some of the top Magento 2 features that can help take your eCommerce store to the next level.
Magento 2's New Back-End Look and User Experience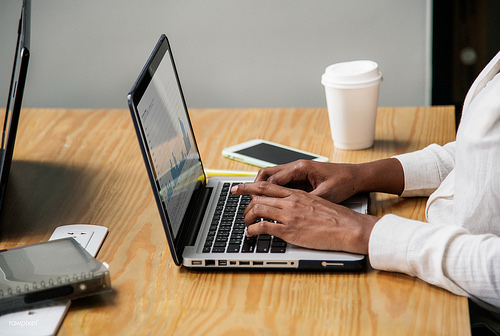 Image via Flickr by RawPixel Ltd
A Magento 2 features list would not be complete without a look at the new admin panel, which is designed to streamline your work and make the system easier to use.  With an all-new, discrete look and simplified set of navigation tools, the new admin panel makes it easier to make updates and to train new team members quickly and easily.
The new admin panel is cleaner and easier to navigate visually.  Most key components are located in similar places after the initial log in as compared to the Magento 1 admin panel.  So, while it may take a few moments to get the hang of it, the new version is not fundamentally different for users of Magento 1 to learn.  Perhaps most importantly, the System > Configuration menu is in more or less the same location, except that it is now labeled Stores > Configuration.
The menu has also been re-arranged by subcategories so that similar features are grouped in one, easy-to-identify place.  For example, while Block and Pages used to be placed under "CMS," it can now be found under "Content." Similarly, Promotions and E-mail templates are grouped together as sub-categories under "Marketing."
The admin can customize the panel so that important information can be accessed quickly.  Additionally, each panel can be personalized for each user so that individual team members can maximize their productivity managing orders, products, and customer data on the platform.  The menu bar has also been moved to the left side of the page. This makes the setup feel similar to other popular CMS applications and therefore more user-friendly, especially for new users.
Better, More Secure Back End Access
In addition to a more navigable, easy to use dashboard, Magento 2 has made back end improvements that enhance security.  While the dashboard is now customizable for each team member or user, it is also limited to one login per admin user account. This means that if one user attempts to log in to the same account that is being accessed by another user, the other users are automatically logged out.  This is an important security measure because it helps store owners spot when someone else is attempting to hack into an account using your username and password.
The new security features mean that store owners should create a unique account for each store administrator so that each team member can access the back end at the same time without being logged out.  In addition to improving your site's security, this allows each team member to customize their dashboard so that the information they most need to access is at their fingertips.  Magento 2's back end set up will help team members work together productively and efficiently to keep your eCommerce store in top shape.
Streamlined Admin Tasks
The new dashboard also streamlines a number of common admin tasks, simplifying your team's workflow and reducing the time that it takes to complete common tasks.  Back end users can now create configurable products within the "new product" page. Attribute creation is also integrated into the new product creation process, which should facilitate workflow improvements.
The new admin panel makes doing critical tasks like adding a product significantly more streamlined: simply set a new product to "In stock" and "Enabled" and add a quantity larger than zero, and it will appear on the front end.  Drag-and-drop layout editing also makes it easy to improve your site design.  By simplifying these types of tasks, the Magento 2 platform makes it easier to run your business.
The new drop-down under "Columns" allows back end users to check each column that they would like to display, with more column options that were available in Magento 1.  The drag-and-drop interface also allows users to drag selected columns to re-order them.  Additionally, there are more customizable options for both the "Products – Catalog" and "Sales – Order" grid pages in Magento 2.  All of these tweaks to the admin dashboard are designed to make back end work more personal and therefore more streamlined, as well as easier for new team members to learn.
Importantly, the new admin dashboard has a more touch-friendly, responsive navigation, meaning that it can be easily accessed from a tablet or mobile device.  This feature will be exciting for managers and team members who may need to move around a warehouse or office as they work.  The more navigable dashboard also makes it faster and simpler to update your store on the go and provide up-to-date product data.  The new dashboard, therefore, helps your store move as fast as your customers' expectations.
More Streamlined Check-Out Process
On the front-end side of things, Magento 2 allows eCommerce stores to create a more streamlined check out process.  According to Statista, of the staggering 75% of all online shopping carts that are abandoned before a purchase is made, 25% of users said they abandoned a cart because they had to re-enter their shipping information while 30% said it was because they had to re-enter their credit card information.  The cart abandonment problem has led eCommerce merchants to streamline the check out process on their sites as much as possible in order to increase conversion rates.
In Magento 1, users typically had to make some alterations to the standard check out process in order to make it more efficient from the customer perspective.  However, Magento 2's new configuration requires less customer information and fewer steps in the check out process.  Magento's testing found that Magento 2 can provide an end-to-end checkout experience that is up to 51% faster as compared to Magento 1.  New features in the Magento 2 check out process include automatically filled out credit card type and a new "Order Success" page.
Magento 2 also adds new payment method extensions like Braintree and PayPal, as well as WorldPay, CyberSource, and Authorize.net, so that customers have more freedom to choose the most convenient payment method for them.  An enhanced PayPal buying experience allows customers to access check out through overlay windows without leaving the store site.  While it was possible to incorporate these platforms into stores through the Magento 1 platform, Magento 2 makes that process a lot easier.  Magento 2 also teams up with Cybersource and Worldpay to make payment operations more safe and secure.  An "instant purchase" option also improves the customer experience.
The more streamlined, convenient check out process will help increase your store's conversion rates by decreasing the number of carts abandoned by customers before check out while improving your customers' experiences using your site.
Enhanced Speed, Scalability, and Security
The Magento 2 platform also creates a superior user experience for your customers, enhancing speed and scalability by providing an all-in-one technology stack.  The new platform is super-charged to offer more than 50% faster load times across both checkout and catalog pages.  Peak volume allowances let you plan around (and pay for) average volume instead of peak volume, potentially reducing costs.  Continuous software evaluations optimize site performance.
One of Magento 1's most exciting features was the ability to grow your eCommerce site alongside your customers, and Magento 2 takes this feature even further with unmatched scalability.  According to Magento, the new version of the platform can process up to 39% more traffic than the original version, providing support for more than 250,000 orders and up to 3.5 million page views per hour.  The scalability features built into Magento 2 allow your store to handle higher traffic volumes and bigger product catalogs as your business grows.
Security is an increasing concern for both eCommerce merchants and customers.  Keeping your customers' financial data safe is more important than ever in an age of leaks and hacking, and the implementation of regulatory frameworks like the EU General Data Protection Regulation (GDPR) is making online security all the more critical.  Magento 2 provides dependable security features that offer additional protection, from additional security plug-ins to patches that are released as soon as problems are detected.
Visual Merchandising Tools
Visual merchandising helps to draw in customers and make your brand more appealing through the organization of an eCommerce store's layout.  It means making the layout of the store more appealing and intuitive, spotlighting hero products that draw in clients, and making the site visually appealing and versatile on both desktops and mobile devices.
While visual merchandising started out as a technique for brick-and-mortar stores, creating an immersive and even personalized experience for customers is becoming more and more important in the eCommerce world.  Social proof through customer reviews, compelling storytelling through images and text, featured products, and collection-based product arrangements are just some of the ways that visual merchandising can make your eCommerce site more appealing and draw in customers while driving conversions.
Magento 2 provides exciting tools to boost your average order value using visual merchandising tools.  These tools allow users to display your most compelling products at the top of the page by easily sorting and re-ordering categories manually.
Magento 2 incorporates OnTap's Visual Merchandiser module, which was previously available for purchase from OnTap, into the Magento core.  The visual merchandiser module now provides an option to drag and drop multiple items at once, saving time on product multi-selection.  You can also use visual merchandising tools to develop categories based on automated rules to save your team time and energy.  Additionally, you can now quickly add hero products that draw in customers by entering their SKUs under the automatic sorting condition so that they are automatically displayed at the top of the page.
A number of available visual merchandising modules available for Magento also make visual merchandising easier for users through drag and drop.
Magento 1 will eventually be phased out.  That is why it is critical to develop a plan for transitioning from Magento 1 to Magento 2 now.  Managing the transition now will also allow your business to take advantage of all of the benefits of Magento 2, including this list of incredible features.
To learn more about Magento 2 new features and what the Magento platform can do for your business, book a free consultation appointment with IronPlane.   IronPlane is a leading U.S.-based, full-service Magento agency.  We provide customizable solutions for eCommerce businesses on the Magento platform.  Our team of Magento-certified experts has more than 10 years of experience.  The team is headed by our lead developer, who has been named a Magento Master by Magento three years in a row.  This is an honor that is offered to just 20 developers around the world each year.  Our team is ready to walk you through the Magento 2 features list and to help you understand what is new in Magento 2.
Our team of 30+ developers specializes in front-end, back-end, and integrations with third-party services.  We also specialize in migration from Magento 1 to Magento 2, site optimization, and other tasks.  We also offer cloud Magento hosting services and code review to optimize your site's speed.  Regardless of the size and scale of your project, our developer pros are ready and able to take it on. Let us help you to elevate your web presence, drive sales, and develop your brand on your eCommerce site.