With eCommerce businesses becoming increasingly more accessible worldwide, buyers can purchase many products outside of their home countries. It is important for owners of eCommerce companies targeting online customers to be aware of changes happening in the competitive eCommerce landscape.
ePacket delivery has made purchasing products from overseas companies, including China, easier. To keep a competitive edge over China merchants, it becomes vitally important that you understand what is ePacket shipping and why it has increased in popularity when shipping from Hong Kong and China. In this guide to ePacket shipping, we will discuss:
What is ePacket shipping
ePacket pros and cons
What this means if I dropship
How ePacket shipping benefits dropshippers
ePacket benefits for dropshippers
What fees do customers incur with ePacket delivery
Where is ePacket shipping available
Determining if your package is an ePacket delivery
What are the requirements for ePacket shipping
How long does ePacket shipping take
How to track an ePacket shipment
What ePacket delivery means for small business owners
What Is ePacket Shipping?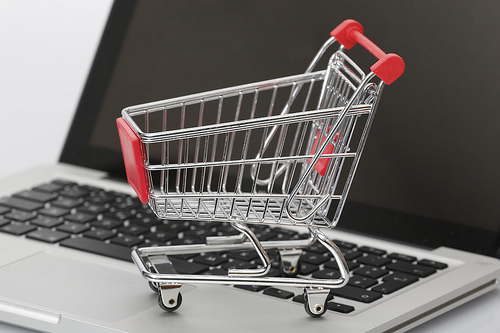 Image via Flickr by Tim Reckmann | a59.de
To understand ePacket shipping, you must know the history behind its origin, where it's available, and its requirements. While China EMS was a reasonable and affordable way for consumers to receive shipments from overseas, delivery times of more than a month made it a less-than-desirable option.
ePacket shipping or ePacket delivery was created to address this barrier. Merchants in Hong Kong and China offer ePacket delivery as an affordable and fast shipping option for lightweight packages. The Hongkong Post, eBay China, and the United States Postal Service reached an agreement in 2011 that provided USPS First Class Mail and delivery confirmation service for packages shipped from Hong Kong and China.
ePacket Pros and Cons
As with any component in a process, there are pros and cons to ePacket shipping. The benefits include:
Faster Delivery Times: While standard shipping times from China to other countries often take up to 40 days for delivery, ePacket shipping can reduce that time to about 15 to 18 days.
Lower Shipping Fees: Customers are not going to pay more in shipping fees than the value of the product they are purchasing; with ePacket deliveries receiving local first class mail rates, merchants can offer buyers lower shipping fees.
ePacket Tracking and Delivery Confirmation: Customers can monitor their packages during the entire shipping process, and you as the merchant receive a delivery confirmation with the ePacket delivery tracking number.
Increased Conversion Rates: When customers receive their packages promptly at minimal shipping costs, they are more likely to leave positive reviews and purchase from your eCommerce company in the future.
ePacket delivery has only a few downsides, including:
Not Being Available Worldwide: Currently, ePacket shipping is only available in 38 countries, which is a relatively small market globally.
Geographic and Product Limitations: Individual products might not meet ePacket shipping guidelines, making them ineligible for ePacket shipping; this forces customers to use traditional shipping methods.
What this Means if I Dropship
When selecting products to dropship, ePacket shipping availability will most likely be the main, if not most critical, factor. Knowing where ePacket shipping is available and having the ability to use it will allow your customers to receive purchases in a more timely manner, as well as track their shipments while in transit.
ePacket delivery also provides the most consistent shipping times for both customers and merchants. While other options are available, they are not as reliable unless you utilize more expensive shipping options from Hong Kong and China.
Finally, because ePacket is usually an inexpensive or free shipping option, you as a business owner can offer your clients free shipping when you dropship with Oberlo or AliExpress.
How ePacket Delivery Benefits Dropshippers
Once you understand where ePacket shipping is available, you won't want to overlook it for dropshipping. It allows you to improve your business processes effectively, even decreasing PayPal refund requests when customers select ePacket as their shipping option.
If you are a dropshipper, you already recognize the importance of timely deliveries. Your brand will only evolve as long as you have customers that continue to be happy. ePacket allows your customers to receive their products within a 12- to 18-day time frame. Providing consistent delivery times helps you establish long-term customer relationships.
Orders not delivered within a reasonable time frame result in customers becoming frustrated and requesting refunds, which can transpire into negative feedback. Negative ratings and reviews can also put a dropshipper's relationship with online payment services such as Stripe or PayPal at risk, including being blocked from these portals entirely. ePacket dropshipping helps you avoid this happening to your business by ensuring timely deliveries and providing your customers with the ability to track their packages.
ePacket Benefits for Dropshippers
Decrease refund requests and increase client retention.
State delivery times for specific products easily.
Ability to provide your customers with an "order tracking" page on your website; this gives customers easy access to shipping information and can reduce the number of customer service emails and calls requesting information.
What Fees do Customers Incur with ePacket Delivery?
Many customers want to know if they will be responsible for customs, duties, or other fees with ePacket delivery. ePacket deliveries must clear traditional customs, which might result in the buyers being responsible for any taxes and duties applicable upon arrival. It is always best to review local laws when determining what duties or fees may apply to imported purchases and what kinds of goods are included. The selling merchant is also a valuable resource in this area, likely being aware of any taxes or duties owed upon arrival based on prior experience.
Where Is ePacket Shipping Available?
While initially created as an agreement for packages shipped from Hong Kong and China to the United States, an additional 35 countries have now entered into this agreement to receive ePacket delivery, including:
Vietnam (currently on trial run)
United States
United Kingdom
Switzerland
Sweden
South Korea
Spain
Singapore
Russia
Portugal
Poland
Norway
New Zealand
Netherlands
Malta
Malaysia
Luxembourg
Lithuania
Latvia
Kazakhstan (currently on trial run)
Japan
Italy
Israel
Ireland
Hungary
Hong Kong
Greece
Great Britain
Gibraltar
France
Finland
Estonia
Denmark
Croatia
Canada
Brazil
Belgium
Austria
Australia
Determining if Your Package is an ePacket Delivery
When ordering via AliExpress, you can find this information by looking under "Orders" and then clicking "View Details." Under the "Logistics Information," you can see the shipping method used under the "International Shipping Company." If the package is being shipped using ePacket, it will state this, along with a tracking number to allow buyers to monitor the shipping process.
For orders placed separate from AliExpress, the tracking number included will provide information on how the package was shipped. Tracking numbers starting with the letter "L" are generally ePacket delivery, while tracking numbers not beginning with "L" or packages that do not have a tracking number are most likely not shipped using ePacket shipping.
What Are the Requirements for ePacket Shipping?
In addition to understanding what ePacket shipping is, you must be familiar with the requirements for use. For a package to be sent via ePacket shipping, it must meet the following criteria:
A package cannot be heavier than 4.41 pounds or 2 kilograms; this total takes into account the weight of everything in the package, including the shipping box, filler material, packaging material, and the product itself (Israel does provide an exception to this rule, allowing packets to weigh up to 6.6 pounds or 3 kilograms).
The product cannot be valued at more than $400 U.S. dollars and must be sent from Hong Kong or China to an eligible country.
The minimum size for a regular ePacket delivery is at least 14 centimeters in length and 11 centimeters in width; a rolled ePacket needs to be longer than 11 centimeters in length; two times the diameter added to the length must be more than 17 centimeters; and smaller ePackets should be placed in a larger box with filler added.
The longest edge of a regular ePacket package must be less than 60 centimeters in length; the sum of the width, height, and length must be more than 90 centimeters; and with rolled-up packages, the longest side must be less than 90 centimeters long while two times the diameter added to the length must be less than 104 centimeters.
How Long Does ePacket Shipping Take?
ePacket shipping generally provides more consistent average shipping times than other economical shipping options coming out of Hong Kong and China. Several factors help determine shipping times for ePacket delivery, including final destination, holidays, and customs.
Packages being shipped to the United States usually take between 10 and 20 days from the date of shipment to be delivered. Other countries accepting ePacket deliveries see similar or slightly longer shipping times. First, the package must be routed to the proper shipping facility before traveling to the destination country and, finally, to the purchaser.
While ePacket shipping times might seem longer than those of other shipping methods, you need to recognize the number of ePackets processed daily going to the same destination, along with the various stops an individual package makes along with way.
Customers that are given the ability to monitor their ePacket shipments' progress tend to have greater peace of mind throughout the entire process.
How to Track an ePacket Shipment
ePacket delivery is often offered as a shipping option with China-based merchants on AliExpress, Oberlo, and eBay. Any merchant based in Hong Kong or China can also use ePacket delivery as long as the package meets the requirements above.
Knowing how to track an ePacket shipment provides the customer with package tracking from start to finish without added cost. There are several ways you can follow an ePacket shipment, including:
Customers who know how to track an ePacket shipment can track their packages via EMS and USPS official websites; EMS monitors packets while they are still in China and Hong Kong, while the USPS website provides tracking for packages once they have arrived in the United States.
Viewing the Order Details section on the product website can provide status updates on package delivery.
Third-party tracking services, such as 17TRACK, AfterShip, Package Mapping, and PackageTrackr, are also available.
If a package is undeliverable, it is returned to the sender at no additional cost. This makes the process of refunding buyers that didn't receive their packages easier.
What ePacket Delivery Means for Business Owners
The eCommerce world is always evolving. Identifying why customers are choosing a particular company and product is an essential component in determining ways to increase customer retention. Most customers do not want to wait for weeks for their purchases. Business owners will find that improved delivery speeds provide them with a competitive advantage over their competition.
2019 Updates for ePacket Shipping
If the United States exits the Universal Postal Union treaty, how it will affect businesses that rely on ePacket shipping to get smaller packages to the United States at cheaper rates? The earliest the United States can withdraw from this treaty will be the fourth quarter of 2019.
It is still unclear what precisely this means for ePacket delivery and dropshipping. The United States continues to state that it will attempt to negotiate more favorable rates. These rates may make shipping items from China to the United States more expensive, but at this point it's impossible to know for sure. Businesses would benefit from planning for a shipping price increase and researching other shipping options, including other U.S.-based suppliers.
IronPlane recognizes how vital shipping regulations and costs are for businesses and will continue to follow this situation as additional information gets released. Let our team of experts help you learn how your business can benefit most from ePacket shipping.