Shopping on handheld devices is quickly becoming a critical proportion of overall online sales. Mobile eCommerce trends show that four out of five Americans do at least some of their online shopping on a mobile device. Predictions indicate that mobile sales will grow from less than 40% of total eCommerce sales in 2018 to more than 53% in 2021. Mobile eCommerce (also known as mCommerce) sales on Black Friday and Cyber Monday of 2018 surpassed $2 billion. This smashed through the record previously set in 2017, according to Pixel Union.
Additionally, expectations are increasing from online shoppers. Consumers are expecting sites to be fast, convenient, and easy to use. Sixty-two percent of customers say they are less likely to make a future purchase from a company when they have a negative experience with its mobile site. Navigation issues with mobile eCommerce sites have created the so-called "mobile gap." Customers are far more likely to abandon their carts on mobile versions of sites than they are on desktops or laptops.
To help close the mobile gap, your eCommerce site needs to be mobile friendly. As one of the latest mobile eCommerce trends, progressive web apps can help ensure that your eCommerce site is easily navigable for mobile users. They can also help you drive sales and grow your eCommerce business.
What Are Progressive Web Apps?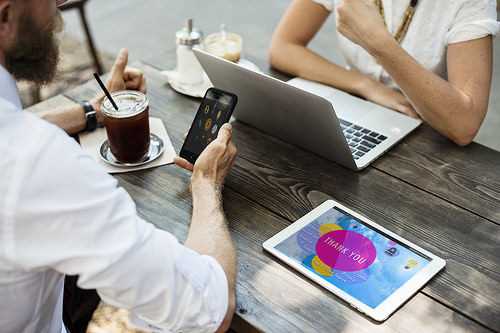 Image via Flickr by Rawpixel Ltd
Progressive web apps, or PWAs, are essentially web apps that have the same look and feel as a native mobile app. The difference is that they are accessed through a web browser.
Google decided to develop PWAs in 2015. According to a Google study that compared 1,000 top mobile apps to 1,000 top mobile web properties, the reach of mobile web properties is much higher than native app reach. The study identified 11.4 million unique visitors per month via PWAs. This figure is compared to 4 million unique monthly visitors for native apps. However, users tended to spend much more time on average on native apps as opposed to mobile sites. Native apps also offered distinct characteristics, such as the ability to send push notifications to users. PWAs were created to combine the best of both worlds.
PWAs were first developed by Google. However, now they are supported by a number of internet browsers in addition to Google Chrome. There is no need to download an app from the app stores that service their mobile devices. Users can simply tap a link to install a PWA on their mobile phones or tablet devices.
PWAs are displayed on the homepage. Much like native apps, they can send push notifications as well as integrate into system settings. PWA app shells create app-like navigation and gestures for their users. PWAs can also download instantly, even in places with low internet connectivity. They can also stay up-to-date with the help of pre-caching. With pre-caching, the most recent version of the app is displayed upon launch.
Progressive Web Apps Features
PWAs include a number of features that draw on both native mobile apps and traditional mobile sites. This makes them more user friendly.
Responsive: PWAs are designed to automatically adjust to different devices. This includes desktop and laptop computers, as well as mobile and tablet devices.
Secure: PWAs are also served via HTTPS. This feature makes them more secure than native mobile apps.
Discoverable via Search Engine: PWAs are identified as apps due to the W3C manifest. They are therefore discoverable via search engine through the service worker.
Easy Installation and Updates: Finding and downloading an app from an app store can be a multi-step process. This can take a long time. These types of apps are also bulky and take up more space on devices. In contrast, users can install PWAs through an easy process with only one tap. Additionally, since an app store is not a mediator for updates, PWAs can be updated instantly.
In addition to these user-friendly features, many eCommerce businesses prefer to go straight to PWAs because they are both more economical and faster to build than traditional mobile sites. Because you can create one version of a PWA, they cost less and take less time to develop than native mobile apps.
Mobile eCommerce Trends
PWAs are one of the largest upcoming mobile eCommerce trends, according to a report by Practical eCommerce. Many of the top major brands are moving from native apps to PWAs. This move is also driven by the three mainstays of native app distribution: Apple, Google, and Microsoft. PWAs are not supported by every internet browser. However, things are trending in the direction of greater support across browsers.
These trends are driven by the popularity of PWAs among users. For example, visitors to Pinterest's PWA spend 40% more time on the site as compared to older mobile site versions. Pinterest also saw its ad revenue rates increase by 44%. Additionally, core engagements increased by 60% on the PWA as compared to the previous mobile site version. PWAs are on trend to become even more ubiquitous as the technology develops further and becomes more popular.
Develop a PWA Plan
As we mentioned before, users expectations for mobile sites are growing. This makes it more important than ever for your eCommerce site to be mobile friendly. There is also the explosive revenue growth in the mobile eCommerce realm to consider. PWAs can help create a more user-friendly experience for customers. This will help to drive conversions and keep customers coming back to your site. Since the mobile eCommerce trends point toward PWAs, having a mobile-friendly site is critical to growing your eCommerce business.
Let IronPlane's Magento-certified developers help you to develop a mobile eCommerce app that will make your business more mobile friendly. IronPlane is a U.S.-based, full-service Magento eCommerce agency. Magento's new PWA studio is opening up a new world for eCommerce businesses based on the versatile Magento platform. The PWA studio offers a suite of tools to build PWAs through Magento for this first time.
Schedule a free appointment with IronPlane's team of experts today to learn more about what solutions we can offer for your eCommerce needs.