Mobile sales are making up an increasing proportion of total eCommerce revenues. By 2021, global mobile sales are projected to reach $3.56 billion and make up more than 70% of total eCommerce sales.
At the same time, customers have growing expectations for mobile site performance. The "mobile conversion gap" refers to the disparity between higher conversion rates on desktop and laptop computers than on mobile devices, even in the face of increasing mobile device use for online shopping. Slow load times, confusing navigation, long checkout processes, and other issues with user experience all drive the mobile conversion gap.
The growing share of mobile sales and the problems raised by the mobile conversion gap both point to why your eCommerce business should have a user-friendly mobile interface. If you have a clunky mobile site, you are almost certainly losing out on potential revenue. This, in turn, will affect your ability to retain a loyal base of customers. Developing a user-friendly mobile presence is critical to increasing your revenue in the short term. A mobile presence can also help you grow your business over the long term. It can do this by attracting new customers and building brand loyalty.
Many analysts have predicted that Progressive Web Apps, or PWAs, could overtake the use of native web apps in 2019. Learn about PWAs and find out whether your business should migrate to a PWA. This will allow you to be prepared for the coming revolution in mobile eCommerce.
What Is a PWA?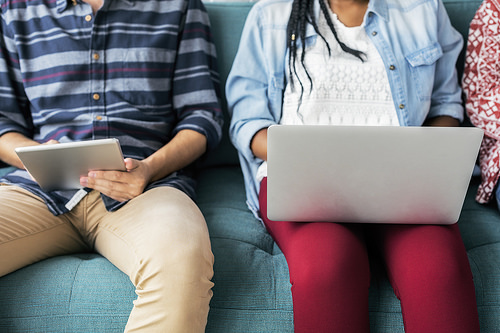 PWAs are a quickly growing trend in mobile eCommerce, also known as mCommerce. These apps have a similar visual feel and user experience to a native mobile app. Unlike native apps, however, you access them through web browsers.
PWAs were first developed in 2015 to combine the best properties of native apps and traditional mobile sites. Mobile web properties tend to have a much further reach than native apps. They are also are easier to access since they do not require navigating to an online applications store to download them.
However, users tend to spend more time on native mobile apps than they do on mobile web properties. Additionally, native apps offer specific abilities. For example, they can send push notifications to users, a useful marketing strategy.
PWAs combine the best features of each app type. Like a mobile web property, you can access PWAs through many web browsers with a simple tap on a mobile device. Although originally developed by Google, PWAs are now supported across several (although not all) internet browsers.
While they are displayed on a user's homepage and are integrated into system settings, PWAs have the look and feel of native mobile apps, such as app-like navigation and gestures. They can send push notifications to users and be used in locations with low internet connectivity. New versions download instantly.
Why Customers Love Using PWAs
PWAs combine the features of both native apps and traditional mobile sites to generate a more user-friendly experience. They have several features that online shoppers love.
PWAs are faster and more responsive than traditional mobile sites. They are highly responsive to different devices, including desktop computers, mobile phones, tablets, and laptops. PWAs also load faster and provide smoother scrolling and transition between pages. This feature makes the experience a quicker and more convenient one for users. The result? An upswing in conversion rates.
PWAs also offer the instant gratification of native apps without the hassle of using an online applications store. Finding and downloading a native app is a multi-step process. In contrast, PWAs are discoverable via search engine, which makes them easier for customers to find, and can be downloaded with one tap on a link. PWAs are also usable directly via browser. They do not need to be downloaded or take up space on a user's device. They are also updated instantly instead of requiring users to return for updates.
While PWAs are accessible via web browser, unlike traditional mobile sites, users do not have to continually navigate to a PWA in order to use it. Instead, similar to a native app, a user can save a PWA on the home screen of a device. This allows for easy access. Additionally, PWAs operate in full-screen mode. This gives them more of an app-like feel and makes the design concept simpler and more attractive.
Like native apps, PWAs also offer offline usability. They can be designed by developers to work well even under poor network conditions. For example, developers can set up a PWA to pre-cache, ensuring that the latest version opens every time a user accesses it.
Finally, online shoppers have become more sensitive to data security and privacy. PWAs are served by HTTPS and are more secure as a result.
Why eCommerce Businesses Are Increasingly Developing PWAs
In addition to several user-friendly features, eCommerce businesses increasingly favor PWAs as their go-to online platform for these reasons. First, native app markets are segmented across Android and Apple devices. Businesses must develop multiple versions of the same native app. However, one PWA can operate across the web on a variety of devices, from mobile devices and laptops to desktop computers. PWAs are faster to develop and are a cost-effective investment for businesses that do not want to develop multiple versions of the same site.
PWAs are also good for improving SEO. Unlike conventional websites, pages rarely reload; rather, they progressively adapt as a user navigates. All of the major search engines have the ability to crawl the Javascript of a PWA, just as they do for traditional websites. However, developers must optimize PWAs for SEO to reap the benefits of their SEO-friendly nature.
Like native apps, PWAs can send push notifications in the browser with a straightforward, one-click opt-in. These push notifications allow eCommerce businesses to reach out to existing customers on a personalized basis.
PWAs are not yet accessible from all internet browsers. However, the trend is moving toward support across an increasing number of internet browsers. PWAs work on desktop browsers such as Google Chrome, Opera, and Firefox, as well as on Android phones. Apple also recently announced that it has begun development to support Service Workers. PWAs will soon be accessible on MacBooks and iOS mobile devices through the Safari browser.
Case Studies of Major Brands
Many major brands have already migrated from native apps to PWAs in response to their popularity among users. The experiences of these top companies illustrate some of the advantages of transitioning to a PWA.
According to a Google-conducted study on PWAs, the company Lancôme USA reaped a number of benefits after deciding to rebuild its site as a PWA in 2016. The company noticed that only 15% of carts led to sales on the mobile site. At the same time, the desktop site conversion rate was much higher, at 38%. This finding suggested that customers were frustrated or experiencing problems with the mobile version of the site.
Instead of making marginal improvements to its traditional mobile site, Lancôme USA decided to invest in a PWA in order to improve its users' mobile experience. Lancôme USA found that on the PWA, bounce rates declined by 15%. This decline is likely due to the time it took for the page to become interactive was 84% lower when compared to the older mobile site. The company realized a 17% increase in conversion rates and saw the total number of mobile use sessions rise by more than 50%. The improvements were attributed to the PWA's improved user interface and faster download speeds.
India's largest eCommerce site, Flipkart, switched to an app-only strategy in 2015. However, they found it harder to provide an experience that was as user-friendly as the native app version. Further, the majority of Flipkart's users access the site on 2G internet, and it was important for the site to be functional under conditions of poor connectivity. After developing a PWA, the company saw a 70% increase in conversions. Flipkart found that users spent three times longer on the site as compared to the old mobile experience, or an average of 3 1/2 minutes versus 1 minute and 10 seconds. Additionally, Flipkart saw a 40% higher re-engagement rate.
Similarly, visitors to Pinterest's PWA were found to spend 40% more time on the PWA when compared to the traditional mobile site. Core engagements also increased by 60% when compared to the older mobile site version.
How to Build a PWA
PWAs are on the cutting edge of a massive shift in how users access the mobile web, similar to the transition from conventional desktop sites to responsive web design sites. Taking steps to build a PWA into your medium-term business strategy is essential to growing your eCommerce business over the next several years. When building a PWA, you want to keep a few steps in mind.
First, take a test drive by checking out some of the early mover PWA sites, such as Twitter Lite or wego.com on a Chrome browser. Checking out these sites will give you a taste of the PWA user experience. Taking some time to inspect the sites could also help you to see some of the benefits that developing a PWA could bring to your business.
Second, determine whether a PWA is right for your business. Signs that a PWA would help grow your business include the following:
Lack of Improvement in Mobile Conversion Rates: If your mobile site is receiving increased traffic, but mobile conversion rates are not keeping pace, something is probably missing from the mobile site user experience. PWAs create a faster mobile shopping experience with reduced friction. Since customers are far less likely to return to a site after a negative shopping experience, migrating to a PWA may help improve your conversion rates and keep customers coming back to your site.
Marginal Returns to Site Redesigns: In the short run, redesigning your traditional mobile site to improve user experience may help to improve conversion rates. However, each redesign will yield declining marginal returns, yielding smaller and smaller returns. After a redesign that does not lead to a significant improvement in metrics, developing a PWA will be a better return on investment.
Need for Speed: If you want to do a mobile site redesign quickly, PWAs may be the way to go. PWAs are typically ready to go live in about three months. Responsive mobile site redesigns can take a minimum of five to six months, and even longer than a year in some cases.
Requirement for Real-time Communication: PWA push notification capabilities make it easy to communicate with customers in real time.
Content That Needs to Be Updated Often: Some types of content, such as blogs or news components, need to be updated more than once per day. If your site needs to be updated frequently, a PWA can make updates more streamlined.
Mobile-First Approach: If you have not yet developed a native app or responsive mobile site, you may actually be in better shape than you thought. PWAs allow your business to leap-frog these more traditional technologies by going straight to the up-and-coming technology. More established competitors may have invested in the development of native apps or traditional mobile sites. Going straight to a PWA may, therefore, give you an advantage over larger and more established competitors.
Making a Plan
Finally, start planning. Make sure that development and migrating to a PWA is on your 2019 business roadmap. Contact IronPlane's team of expert developers to get a free quote and learn more about how to build a PWA. IronPlane's Magento-certified team of experts can help you plan and execute your transition to Progressive Web Apps. IronPlane is a U.S.-based, full-service agency that provides programming and customizable eCommerce solutions on the Magento platform. Schedule an appointment today to get a free quote and to learn more about what IronPlane has to offer.
As PWAs become more common and users demand a more efficient, functional mobile site experience, migrating to a PWA will be important to your medium-term business strategy. Beat out the competition by planning your eCommerce business' transition to a PWA now.